---
---
---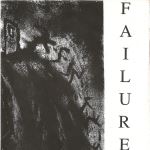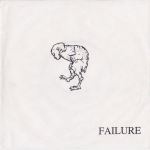 Failure - Pre-Comfort Singles (1992)
This is Failure's really early stuff, two 7" singles they put out themselves, "Pro-Catastrophe/Dipped in Anger" and "Count My Eyes/Comfort". Both are drenched in the sound of fretless bass, and that's pretty cool. They're good singles, but unless you're heavy into Failure like I am, they probably won't appeal to you as much.
---
"Pro-Catastrophe"
I do believe it's coming
Don't dread its approach
The only preference I might have is that I
Hope to see it

It could start with an invasion
Or maybe a creeping flood
The bomb's so boring
I wanna see some blood

There'll be people in the streets
I mean the ones that live in houses
I wanna see them screaming
"Holy mother, sweet Jesus"

I may seem a bit morbid
Which I don't really care to deny
'Cause when it hits, I'll be laughing
And you'll just start to cry

Young and old and middle-aged
Domesticated creatures as well
There are other ways to look at this
Than a state of living Hell

As your friends, relatives, and acquaintances
Perish in catastrophe
Just think of it as the best movie
You could ever hope to see

It's got action, violence
Few rapes in there too
Starvation, whole nations
And it's all for me and you

It's got everything you wanted
Plus, admission is free
There's only one catch
It's compulsory

What I'd like to say to you
Unequivocally, is that I've
Got a brand new movement
It's called "pro-catastrophe"

You could join me, denounce me
I really don't care
'Cause pro-catastrophe is not
Something we need to share

Something we need to
Something we need to share
---
"Dipped in Anger"
I'm sick with the guilt
And I'm dipped in the anger
And sex is the thing
That has brought me disease

I want to hurt people
Especially ones I know
I'm so fucking scared
I just wish I could go

But go to the store
Or the park or the mountains
I'll still be sick there
As the anger spews from me

Like fountains
Like fountains

I can break things, things plastic
But things I'll remember
I broke, it's the gnawing
The clawing, the scraper

Inside wants to clean out
All that's inside, so there's
Only without

A numb, hard shell is how
They'll find me, let me show you my best
I won't be that easy to find, I will fit in
With the rest

The past is still with me
It follows, not stopping
Slowing me down
To show me there's nothing that's

Left in my life
To say that
I have changed

I'm still here, obsessing
And thinking of naught
Cannot even be honest with myself
I don't want to fit in with the rest

Don't want to fit in with the rest
---
"Count My Eyes"
I made my head split open
And everyone watched
I twisted it off
And everyone gasped

I lost my sight
And everyone laughed
Then I replaced my head
And I couldn't see

A hole was left in my head
Between my eyes, dark and red
It wasn't a new eye
I was just dead

I was
Just
Dead

Break me off a piece
Of life's juicy pie
'Cause you don't have to
Lift your eyes

Just look at the way
I look at the sky
Look at me
Count my eyes

Count my eyes
---
"Comfort"
Sometimes, you cry
Sometimes, you don't
Sometimes, I listen
Sometimes, I listen

I want you
I want you
I want you