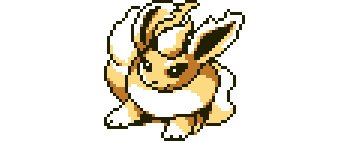 ---
11/27/98
Hi everyone! Thought it was a good time to bring my site up to speed with all the new HTML3 stuff. Sorry for how amateurish it used to look before, I'm not too good with this stuff.
I'm doing a few new things with my site now. I just got my hands on Pokemon Blue (finally), so I'm doing a playthrough of the whole game on here. I'm in love with these games (if you couldn't tell from my Flareon up there), and if you haven't played them, you're missing out.
I'll also be posting a new song every week on my Song of the Week page. Hopefully, I can turn some of you onto this stuff, since the radio won't do it. (Download the songs too, if you can! The internet is gonna be great for free music one day. I can feel it.)
We (I mean me and my friends) also moved our IRC room to EFnet while I was in the process of redoing my site. If you have a client, you should definitely come talk to us! We're in #somnolescent.
Hope everyone had a good Thanksgiving!